Well if I didn't already know summer was over, I sure do now. We had our Back to School Night at Bayview tonight, and it really hit me that our lazy mornings, and fun summer activities are coming to an end and Kinzie and Malichi will
both
be in school all day, everyday, starting next week!
But they couldn't be more excited! They got to meet their teachers and check out their classrooms tonight.
Malichi being a big 3rd grader now, is upstairs at Bayview this year, which is apparently pretty "cool". He has Mr. Janzen for 3rd grade. I think Malichi will love him! He was joking with Malichi saying "I am going to do a mohawk just like yours for pictures this year...except I don't think I have enough hair anymore"! :)
Kinzie will be all day Kindergarten this year! She has Mrs. Karow for her teacher. She seems great! We have heard nothing but great things about
both
of their teachers! Kinzie was so excited seeing her name everywhere in the classroom as she looked around! She kept saying "Mommy, LOOK! There's MY name!"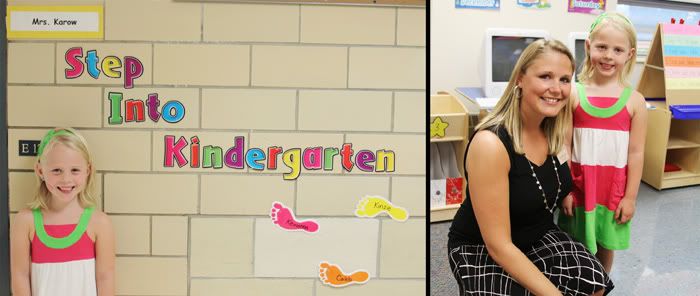 After meeting the teachers and checking out the classroom, we enjoyed an ice cream treat in the cafeteria. And until next Tuesday we are going to try to suck up every moment of summer we can!