Okay so I am just getting around to posting about my trip! :) I'm warning you...it's gonna be a LOOOOONG post- and I mean really long!
Friday-Day 1:
So we didn't start out the first day so well. I was on my way to drop the kids off at Grandma and Grandpa's and then I was heading to the church... and I got PULLED OVER! Oops. I was going 40 in 30. Tiff was in the passenger seat and realized as the cop comes up that she is not buckled. No time to do it before he gets there either. So the cop comes up:
"are you speeding for a reason"
"uh... well.... I am leaving for a church trip at 8...?"
"is she your daugther"?(pointing to my sister who people usually mistake as my OLDER sister)
"uh...no.. thats my sister"
"okay can I need both of your ID's"
We sit for a while, and I'm thinking, Crap he's giving me a ticket, otherwise he wouldn't be taking so long. So he comes back up to the car.
Looks at me and says:
"I'm giving you a warning. You need to slow down".
Looks at Tiff and Says:
"I'm giving you a ticket for not wearing your seat belt"
WHAT THE? The driver gets a warning and the passenger gets a ticket! SWEET.... I mean....sorry Tiff.
It must have been my clean record that made him decide to give me a warning... and the fact that Tiff has had 2 tickets in the past 6 months probably didn't help her out any!
Guess how much the ticket cost her? $103.00
So the moral of the story is... wear your seat belt even if you are only going across town! :)
Okay so onto the when the trip
actually
started.
We got to the church and headed out for our LONG drive. The day pretty much consisted of..
driving,
driving,
eating,
driving,
taking dorky pictures of ourselves: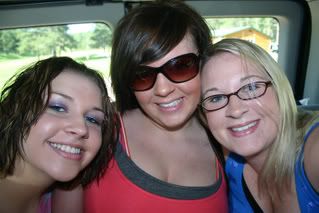 and then some more driving and eating.
We arrived in Custer SD in the afternoon.
Set up camp at Custer Mountain Campground.
Then we had dinner at Pizza works in Custer and headed off to see the night lighting at Mount Rushmore. Gorgeous!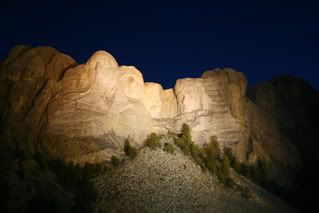 Saturday-Day 2:
We packed up our camp in the morning, and went into Custer for our Old Time Photo shoot.
Brunch in Custer
Then we went out to Lake Sylvan which was also gorgeous!
After that we headed out to finish our drive to the town of Pine Ridge.
We arrived at the Retreat Center in Pine Ridge and hour and a half later.
Karen, the intern that helps run the reatreat center, met us, and talked a little about what to expect while we were there.
Then we headed of to a Pow Wow at the Oglala Lakota College. The Pow Wow was amazing. The costumes (if that is what you call them?? I am not sure) were amazing!
We were told that we might be stared at, and that we would most likely be the only white people there, so I was a little nervous. But once we got there, I didn't feel like we were stared at all. One Native American woman, came up to us, and told us we were welcome there, and we could go find a seat in the crowd if we wanted to. How sweet. :)
I snapped a few cool shots at the Pow Wow:
Sunday-Day 3:
10:30 worship at the Makasan Presbetyrian Church. The service was and HOT and long! It was 100 degrees out that day and the service lasted an hour and half! But it was a good service, and the Pastor was great! He actually took time to have each person in the congregation introduce themselves! (which is why it was an 1 1/2 hours long!) Then we had lunch at the Church.
In the evening we met with Larry (he runs the Retreat center) and learned more about life on the reservation, and the culture. I learned a lot of new things today!
Some Random Facts we learned:
-It was talked about a lot that Alcoholism is prevalent on the reservation, as is Fetal Alcohol Syndrome. The reservation is a "dry" reservation, meaning there are no liquor stores on it. Where we stayed, we are just minutes from the Nebraka border, where there
are
liquor stores. People will walk there to get alcohol, or drive there, drink, and then drive home. There are these signs posted on the sides of the roads that say "think" and "why die", and each one of them represents one person that has died due to an alcohol related incident. We saw many signs. It was very sad to see.
-Diabetes is also prevelant due to lack of a good diet.
-Alot of men die by the age of 45 due to diabetes, alcohol, or heart problems.
-Women's cycles are sacred. The men leave during that time so the women can be together.
-a common food- Tripe soup, which is made of the stomach lining from a cow. Yum-O!
-Stray dogs roam around, sometimes in packs of 3 or 4. We saw a lot of that, which was kinda scary. I'm not talking cute dogs...they looked like wolves!
-There are not a lot of jobs on the reservation. Not much farming or industry. The biggest jobs are at the Hospital, school, and government/tribal counsel.
-The Public school on the reservation has boarding and dorms.
-Sometimes when there has been a tragic death in the family, men with cut off their ponytails, and women will cut their hair short.
-Many of the people are very spiritual.
-A person can take any last name, it does not have to be the one their mother or father has. They can decide it when they are older and make it legal then.
-Relatives and family memebers of the opposite sex do not call eachother by name. They use their relation (neice, uncle etc.).
-The average annual family income on the reservation is $3,000 to $5,000.
-8th year of a drought
-Alot of men and women join the military.
-In their culture the land doesn't belong to them, they belong to the land. They believe when they die, they go back to the land.
-30 to 35% speak the Lakota language.
-About 8 people die a week on the reservation
-The turtle stands for fertility and long life.
Monday-Day 4:
Hit the coffee shop in the morning before making out to the work site at 9:00 am. We worked on a retreat center they were building next to the Makasan Presbyterian church. We worked on leveling dirt for the basement, staining doors, and cutting wood. It was 104 degrees. Yuck.
Day one at the work site we see a prairie fire:
Larry says "there's a prairie fire, and I am a little concerned about it getting over to us"
Great.
Obviously, it didn't and we are fine! :)
After we finished up for the day at the work site, we toured Red Cloud Indian School just outside of Pine Ridge. Red Cloud is a private Catholic school on the reservation. We got a tour of the school, and learned some of the history in the church and school.
And then we went back to the Retreat center.
Meet Delaine: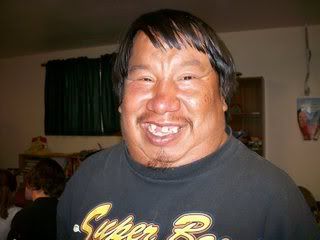 Delaine is a man that lives on the reservation. He hangs around the retreat center alot and was there often while we were there. Delaine had a little crush on Kris. It was pretty cute! But after he found out she was married, he asked us to help him find a girl.
Red hair.
Tall.
Freckles.
Doesn't Drink.
Doesn't Smoke.
Get married, have 2 kids that don't drink or smoke.
That is what he's looking for.
Don't worry...we're workin on it Delaine!
Delaine was such a joy to be around! He would pinch your nose, and feel your forehead and ask "are you ok", EVERY time he saw you! He was just funny, and so sweet.
He said he is going to call me on my birthday.
Later we went back to the retreat center to do kids club. This was my favorite part of the whole trip; getting to spend time with the kids on the reservation. They do Kids club every day monday through saturday year round at the retreat center. It is such a good thing for the kids to do, and have a place they can go because a lot of the kids that come, have a tough home life.
We tye dyed shirts with the kids on Monday, and they were just so thrilled to make the shirts and actually get to take them home! We had fun!
After dinner, we had a speaker lined up to talk with us. His name was Mike Her Many Horses. We had quite the crazy ride out to his house with Joan getting us lost and taking us off-roadin' in a 13 passenger van! I pretty much had a panick attack in the back seat!
Mike spoke about what it was like going to the Red Cloud Indian School when he was young, and he also told us a story about meeting Senator Robert Kennedy in 1966 when he came and visited their school. Mike said he saw a blue ora around Kennedy, and so he went home and told his Mom. His Mom told him to pray for the senator because he would be leaving the earth soon. In their culture a blue or a yellow ora means death is coming soon. One month later Robert Kennedy was assassinated.
He talked about some of the rituals such as Sundance, as well as the different dance styles used in Pow Wow's.
One of the biggest Pow Wow's in the nation is in Shakopee MN, the 2nd weekend in August. Mike goes to it every year. We are going to try to get our whole Pine Ridge group back together to go to it with him.
Wouldn't that be fun?!
Tuesday-Day 5
We spent the morning working at the work site, putting up walls and staining more doors.
For Lunch we went to the Su Anne Big Crow Boys and Girls club. Su Anne was a teenager in Pine Ridge. She was a really good athlete and an exceptional basketball player. She was also a leader. She wanted to curb alcoholism on the reservation. She talked about the teens having nothing to do, and no place to go after school or in the summer where they would have a healthy environment that would help keep them away from drugs and alcohol. At 17 years old (1992) Su Anne died in a car crash. The boys and girls club was built in honor of her after her death.
Inside the club they have a 50's themed restaurant where we enjoyed some massive foot long hot dogs:
Then again at 3, we had kids club at the retreat center. Today we made suncatchers and played games with the kids.
After dinner we had another speaker, Will Peters, come to the retreat center. Will was amazing. He had a really great message about women, and repecting ourselves, and others. And expecting respect from men. My favorite quote from him "It is the women's power that makes the men shine". Will has a CD coming out in July, and a book called "Spiritual Justice" coming out next year sometime. I would love to get them both.
Will rocked.
Wednesday-Day 6.
Today was the hardest day at the work site! We had to move these big 50ft boards for the floor/ceiling of the retreat center. It may not look that heavy but it WAS. We are some buff girls:
After working we went out to the Pine Ridge School, and then out to the Wounded Knee Massacre site.
For Kids club today we made frames with the kids, and gave them each a picture we took of them.
After Kids club we had a worship service and dinner with the kids.
We also got a little beat boxing lesson from 2 college guys from Custer that were there to help with the kid's worship. Rachel had a little crush :)
That evening we went out to Poker Joes for a buffalo feeding! And that was..well...interesting. They were HUGE! Watch:
from
shannon carlson
and
Vimeo
.
And a sweet photo of Joan from the Buffalo Feeding:
Lookin' good girl!
Thursday-Day 7:
One last picture of our group:
We said goodbye to Larry, Karen and Delaine, and headed out for our 10 hour drive back home.
And boy was it good to be home. It was so good to see my babies and to see my hubby! :)
I am hoping to go back on this trip again next year, and hopefully can talk Aaron into going with me. I learned so much about the Culture of Native Americans, and about their history, and it was all so intruquing. We met some pretty amazing people, that were willing to open up and share with us about their life, and their culture which was pretty awesome. And those kids, they were just a joy to work with.
so...you still here? I told you.. It was gonna be long! It only took me like 3 hours to write this whole post! :) Well if you made it this far..feel free to leave me a comment! :) :)