I've got lots to blog about! It's been a busy few weeks!
The kid's had a BEAUTIFUL birthday party a couple weeks ago! I know I said earlier I'd share pictures, so of course I will! The weather was just gorgeous! The kids had a blast! Here are some favorite birthday shots:
We had a little photo shoot before the party: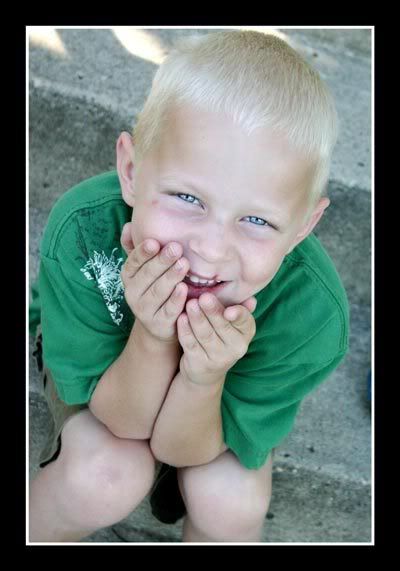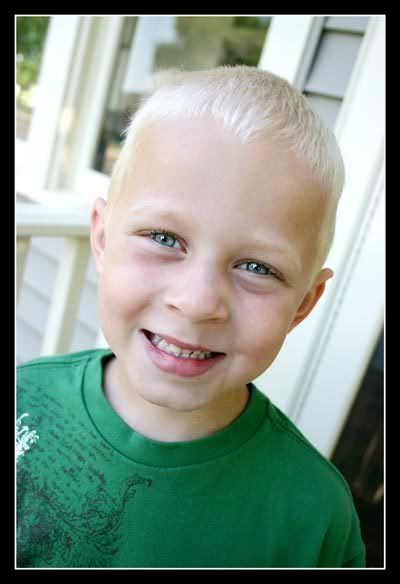 Malichi was sick of me taking pictures: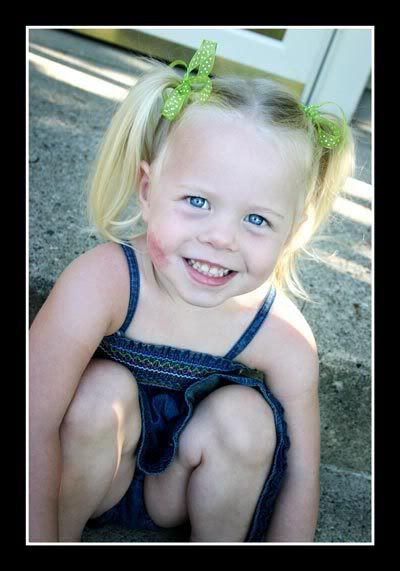 And some from the party: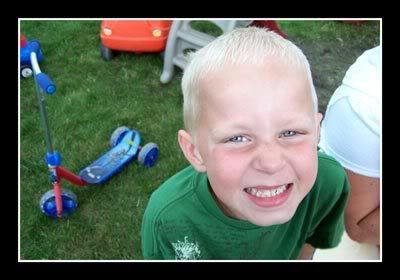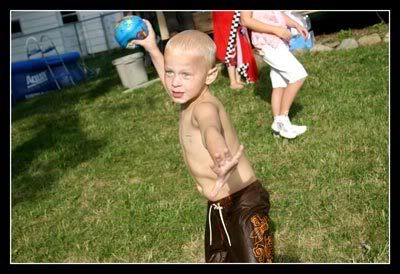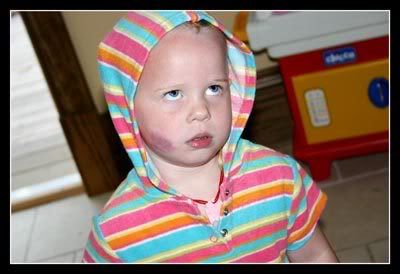 It was just a great day for all of us!
--------------------------------------
This past week/weekend, we went down to Owatonna for the fair, as always, and had lots of fun! The kids had wristbands for rides for the week. I was so surprised at how much Kinzie LOVED the rides! She went on the little roller coaster, and the crazy bus, and she would have gone on the tilt a whirl if she had been big enough! Crazy daring girl she is! And she was so funny too because she would throw her hands up in the air and scream when she was on the rides!
Here they are on the roller coaster: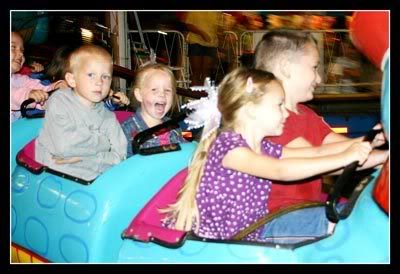 And Mr. Malichi, well, he was "too cool" for most of the rides! He LOVED the tilt a whirl though! I let him ride it once, and that's all he's been talking about since. But when I wanted him to take his sister on the roller coaster, or on the motorcycles, he said he would, but he also said that HE didn't think "THOSE" rides were fun! Here was his "THAT was a BORING roller coaster" face:
We were rained out on saturday and sunday, so we chilled out inside most of the weekend. Actually some of southern minnesota got flooded, some of it in Owatonna.
There was a picture in the paper on sunday morning taken at the fair saturday of a kid standing in front of one of the food booths, and the water was up to his knees!Luckily we didn't get water in our basement again! We had to miss the Pow Wow too because of the weather here. Bummer.
As much as I love going to the fair with the kids,
I was totally ready to come home by sunday. I am FAIRED out!
I did get to see a few old friends too which was awesome!
a few more pics...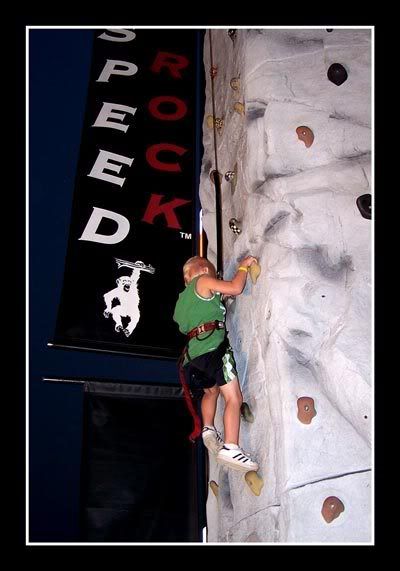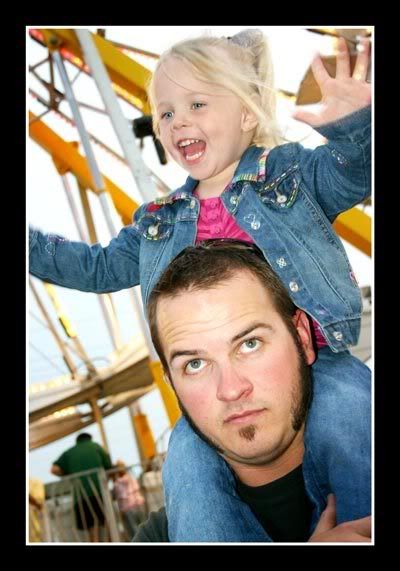 Oh yeah! Nate and Joan and I did a really funny video! I will upload it and share that later!
----------------------------------------------
An then on Wednesday...Aaron gave me a present! A Zune!!!!! I am soooo excited! I have been trying to talk him into buying me an ipod for a while, and wednesday night he came home, and said " I bought you a present" and handed me my new Zune! It's all cute and pink and stuff! I love it.
I haven't had a chance to play with it yet though:( Our internet is down, and I have to do some setup CD on my computer to get started with it, and well, of course before I could do the set up I had to have an update with windows, which is on the internet. GRR. (I am obviously on the internet now, so I will try to get that done in my 1 1/2 that I have on here! :)
Aaron if you are reading this, Thank you Babe! I love you! You were so sweet to surprise(<--well kind of a surprise) me with this! :)
----------------------------------------------
I swear, I am having the worst luck right now. 2 weeks ago I went on a boat cruise with mom's club one evening, (which was awesome!) and I lost the diamond to my wedding ring!!!!!!!!!! :( I had the boat crew, and all of the mom's club helping me look for the diamond on the boat, but we had no luck. SO, I called the jeweler we got it from, and the warranty doesn't cover lost diamonds apparenty. Nice. So then I called my homeowners insurance. Well it's covered but we have a $1000.00 deductible! And after I tell the agent about what happened, she proceeds to tell me that there is something in the policy that I can get for $35.00 a year that covers jewelry, cameras, and camcorders. And if everything totals under $5,000. there is no deductible! WHAT THE!? $35.00 a YEAR and NO deductible! I am SOOOO kicking myself for not having set that up a LONG time ago! Needless to say, I am getting that set up ASAP!
--------------------------------------------
So...last fall we had a few bats in the house, like in the living room of the house, and then last week we had TWO more! Saturday night Aaron and I were sitting in the living room watchin a movie and all the sudden there is a bat flying around about us. I flipped out screaming, and told Aaron to go take care of it, so here's Aaron running around the pool skimmer, and a big piece of cardboard trying to catch the damn thing! It was so funny! And I locked myself in the bathroom while he caught it!
And then 2 nights later, I was sitting down on the couch with my laptop, and Aaron was sleeping. And all the sudden a bat flys right by my head! I screamed bloody murder, and grabbed the blanket to cover up with! I sat on the couch screaming for Aaron for what felt like forever, while the bat flies in circles around the room! Aaron, of course, is out cold and does NOT wake up to my screaming!!!!! So I finally got up the nerve to go up there and get him. I was almost in tears when I got to the room, I was so scared. Aaron thought it was pretty funny though. I wish I would have had all of this on video; it would have been pretty darn funny to watch! :)
I did take some pictures of Aaron trying to catch it though!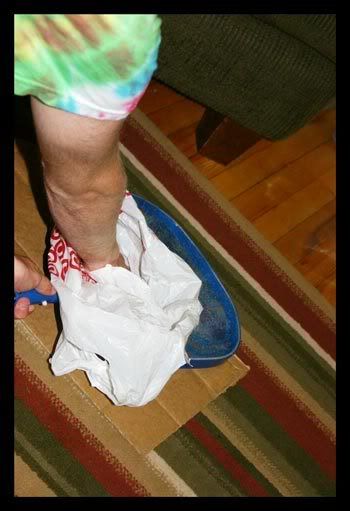 Needless to say, I called someone about our bat problem, first thing in the morning the next day. And $1200.00 later, I really hope the bats are gone!!!
----------------------
As I said earlier, our internet is down. I am at the pizza ranch having lunch, alone, and trying to catch up on some stuff. They have free wireless there now! :)
So we've been without internet for almost a week now. It is quite annoying! We have vonage phone service, so when the internet goes down, so does the phones! So that means I have no home phone! But I still had my cell..so it wasn't SO bad.
...until wednesday night when I dropped my phone in the bathtub while bathing the kids. Damn it! So then I was completely unreachable. Aaron cell doesn't work, mine didn't work anymore after getting wet, and neither did the home phones. I took my phone apart and let it dry out, and eventually it started working, some of the time!
But it just so happened that our contract with vonage eneded the NEXT day! Yay! We had been waiting for that for like a year! So over the weekend we went and picked up new PDA phones, and switched to sprint! I love the new phone! And hopefully we will actually have service in our own house and town now!
Oh and to go along with the wonderful luck I have been having, I tripped on the way into the Rennessaince festival, and twisted my ankle! OUCH! And at the wedding, I was in line for the buffet, and set my salad plate down on the buffet table to dish something up, and I somehow knocked the WHOLE plate on the ground, and Salad flew everywhere. I was so embarrassed! :(
I think Aaron jinxed me cause he told me on saturday morning that I was clumsy, and ever since then, I have been especially clumsy!! It's all his fault! :) Thanks babe!
The kids are at Aaron's parents right now, and have been since friday night. Aaron and I had a nice weekend together. We had a wedding to go to on Saturday, and then we went to the mall of america to buy our phones. And yesterday we went to the Rennessaince Festival! I love that place. We need to start going every year. We bought some cool christmas gifts for people too while we were there! I know.... christmas shopping ALREADY!???!!! Crazy!
Anywhoo...I have a doctor's appt. this afternoon, and then I get to go pick up my babies. I miss them! I can't wait to show them the new slide for their playset that Aaron and I picked up last night, and the little goodies we picked up at the Rennesiance Festival for them! :)
Sorry for the ginormous post!