.
After missing it the last couple of years, we started up our tradition again this year of going to the Holidazzle parade, and Macy's Eighth floor holiday display.

We bundled everyone up, met up with Mom, Julie, Megan, and Ana and took the lightrail downtown. That in itself was exciting for the kids! They thought the lightrail was pretty awesome.

While I knew Kinzie and Malichi would enjoy the parade, I wasn't sure how the twins would do, with it being so cold out, but they absolutely

loved

it! Finley was frantically saying and signing "more" in between each float, and squealed with excitement when he saw the next one coming.

After the Holidazzle, we went to Macy's. This year the Holiday display was "A Day in the Life of an Elf". The big kids had fun going through each section reading the story as they went. The twins were just in awe of everything they saw. It was so fun watching them enjoy it so much.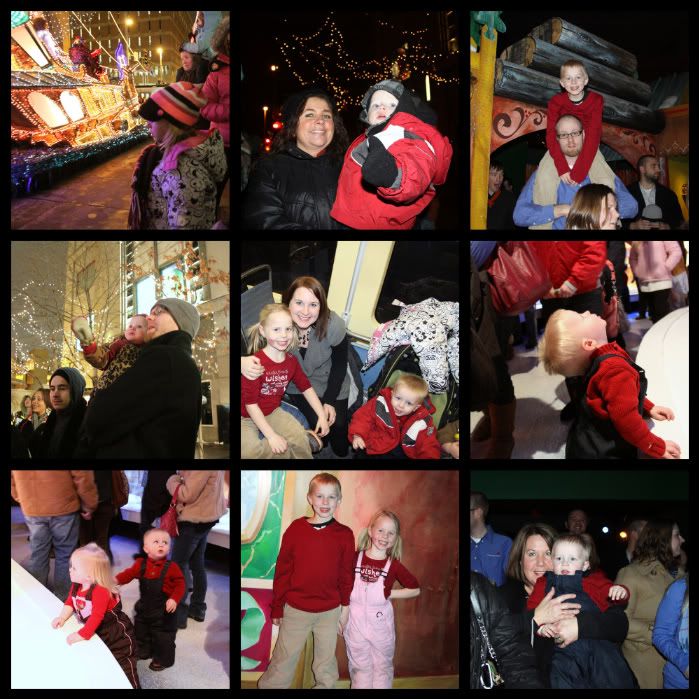 We decided to skip waiting in line to see Santa since we just saw him at the mall. But we went to Mrs. Claus' Bakery and got our treats as usual.




This has been one of my favorite holiday traditions. I have been taking the kids to it since Malichi was probably 2 years old. I look forward to many more years of going with my kids!

After sending Aaron home with 4 exhausted kids, I went and had a little girls night with Mom and Julie. Mom even brought a little Christmas tree and

fake

presents to put under it so the hotel room had a little christmas spirit too (some were real presents too). That is

so

my mom. Gotta love her.