Vacation with my family every year is always adventurous!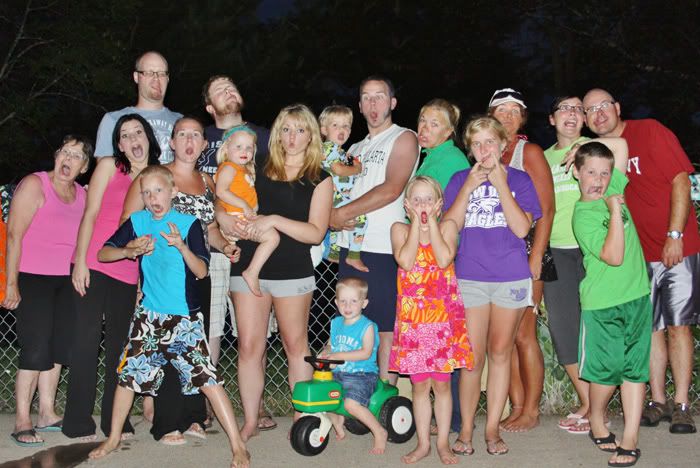 Day one-Sat: We arrived at the cabin, and

just

after we got there the hail started. Pretty soon the sirens were going off and I had all the kids in the basement waiting out the storm. There were funnel clouds in the area so we called Nate and Joan to tell them they were driving straight into the storm cell. Not surprisingly, Nate just kept driving straight into the blackness. Luckily, they got here safely and the storm eventually passed. We even had a little time left before dark to swim in the pool!

Before vacation I bought these life jackets that had great reviews. They are supposed to be good for 2 to 3 year olds in helping them "swim" on their own. Scout absolutely loved it and within a few minutes was kicking her feet and swimming all over the pool all by herself! Finley was a little more hesitant and stuck by the ladder where he could touch, but still did great!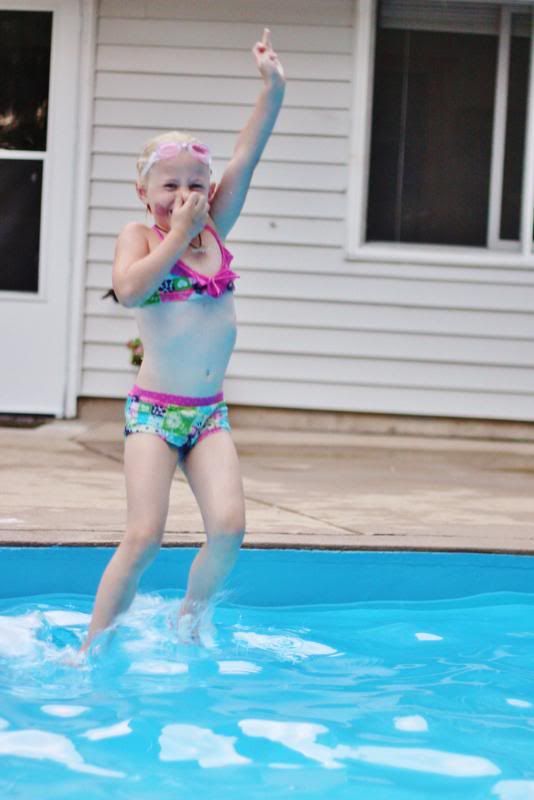 Day two-Sun: We rented a pontoon and spent the day relaxing out on the lake. Not of course without some type of boat issues. The jet ski got a rock stuck in it, and the pontoon had to be returned early because it wasn't running right. But we had fun while it lasted! Kinzie went tubing with Kelsey and mom road on the jet ski to watch the tubers. Sunday night we had a campfire, and made smores. The area was not well lit, and Grammy almost fell again this year believe it or not!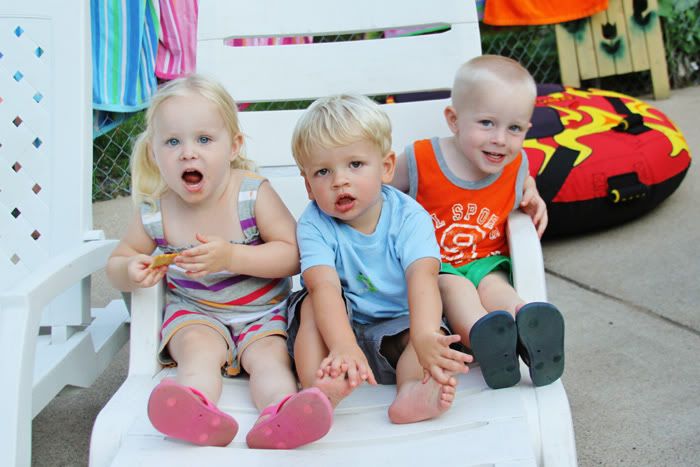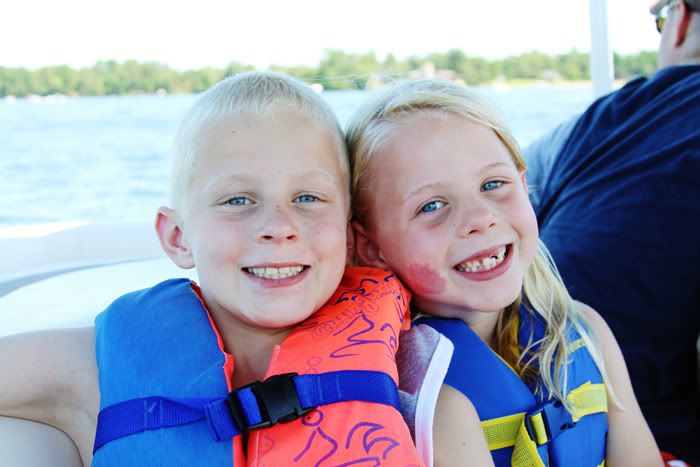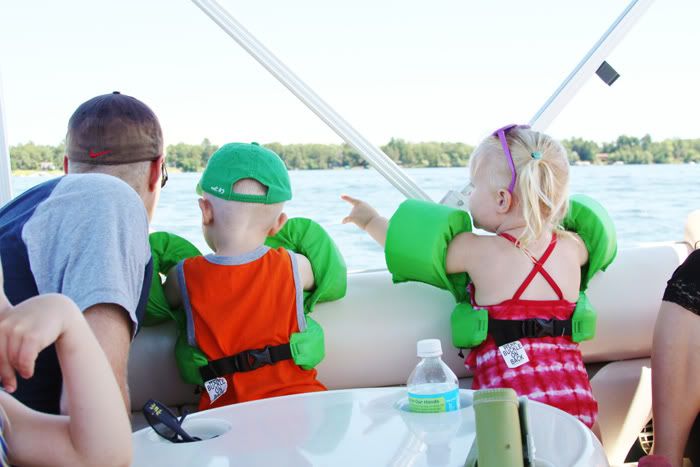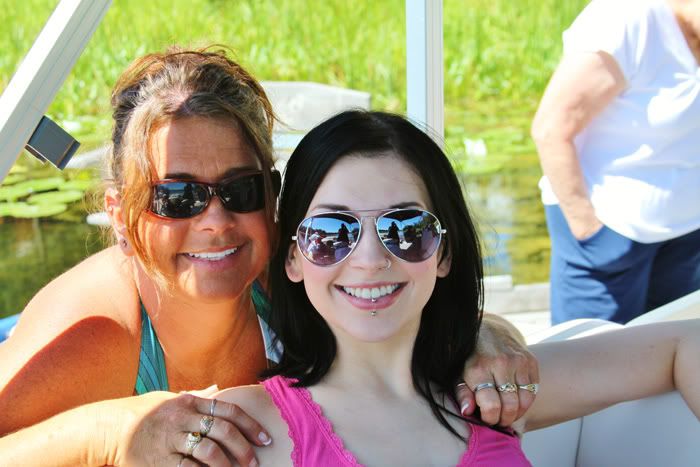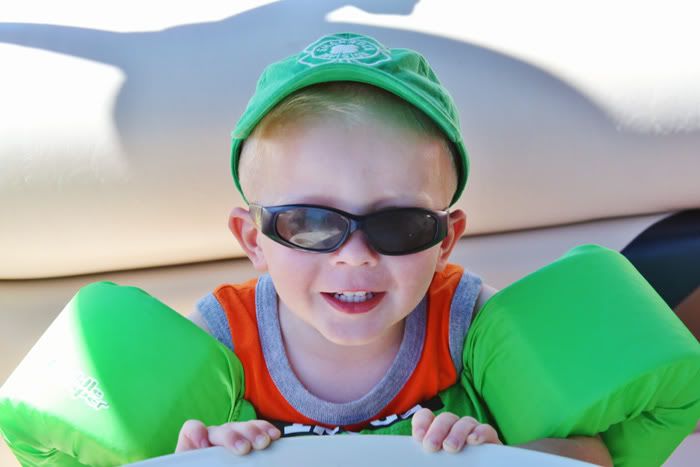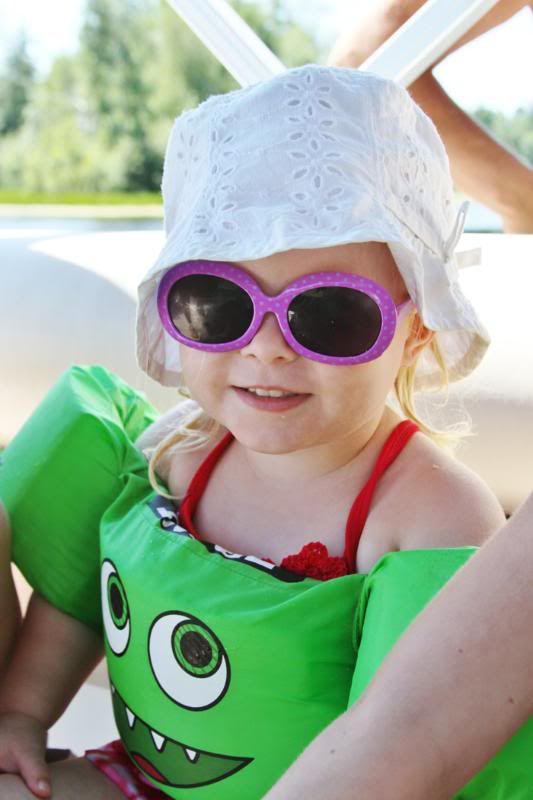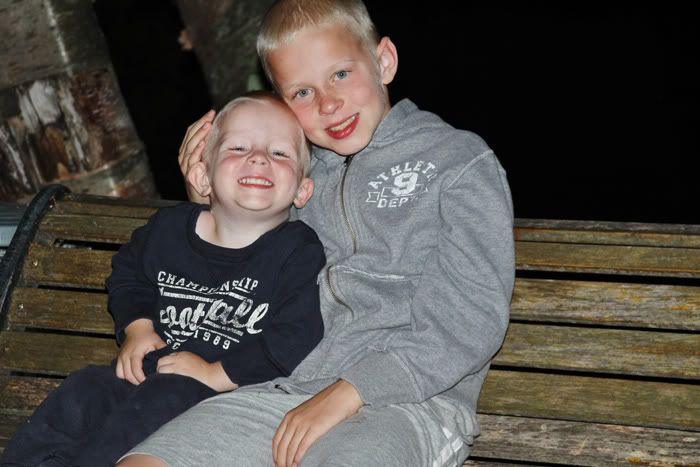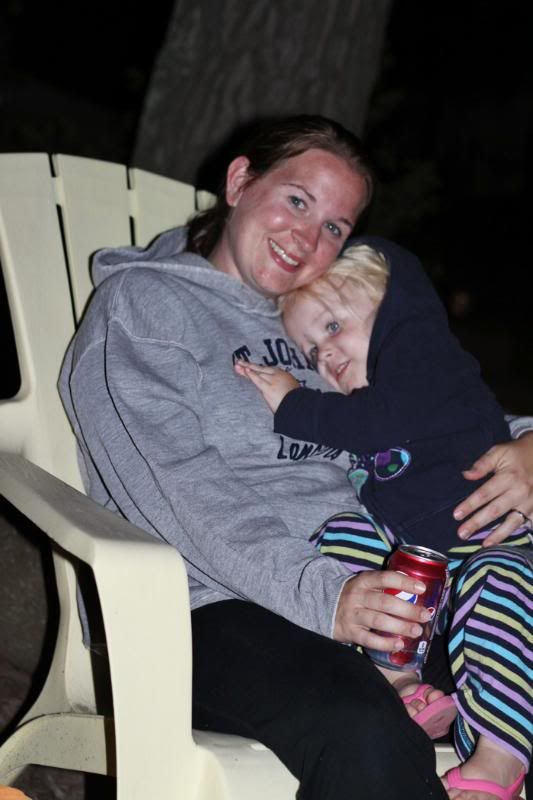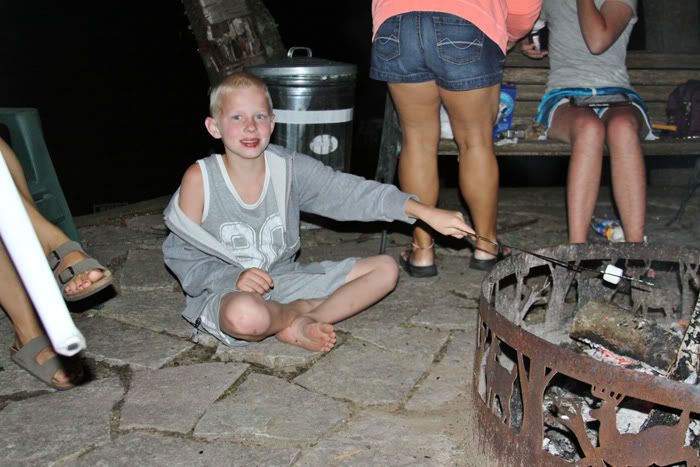 After the kids were in bed some of us sat down to play the game of things(Grammy, Me, Joan, Rachel and Mom). But we instead spend the evening trying to catch a mouse. As we were all sitting at the table ready to play our game, we saw a mouse run past us in the kitchen, and we all jumped up on top of the table and screamed. I texted Aaron, asking him to come and help us, but he didn't believe us. So Rachel called him, and begged him to come help. Finally, he came up, laughed at us, and looked for it, but we didn't find it. Not on night one anyway....stay tuned...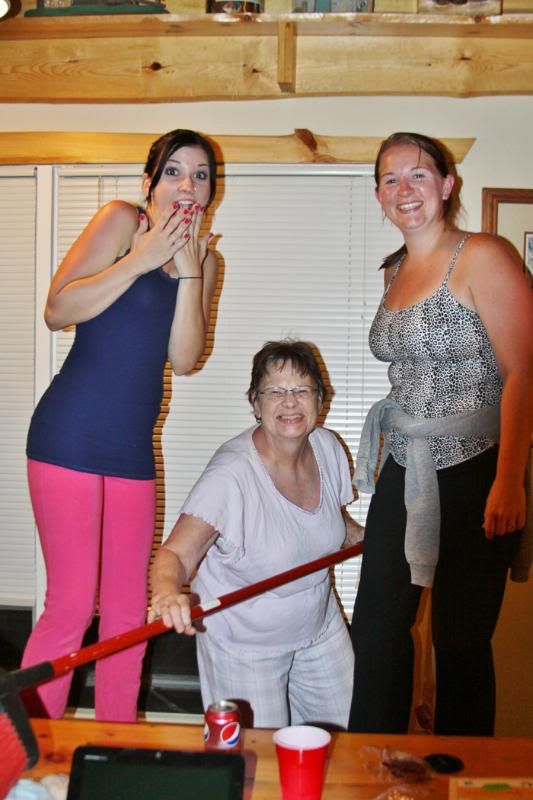 We tried to lure him in with our high tech trap, but it didn't work...




Day three-Mon: We had another rainy day. We made a Walmart trip for groceries for the rest of the week. The guys went golfing and we had a Fooseball tournament after dinner. Daddy was the champion! During the fooseball tournament, Kinzie lost her other front tooth that was SO ready to come out! Love her cute toothless grin!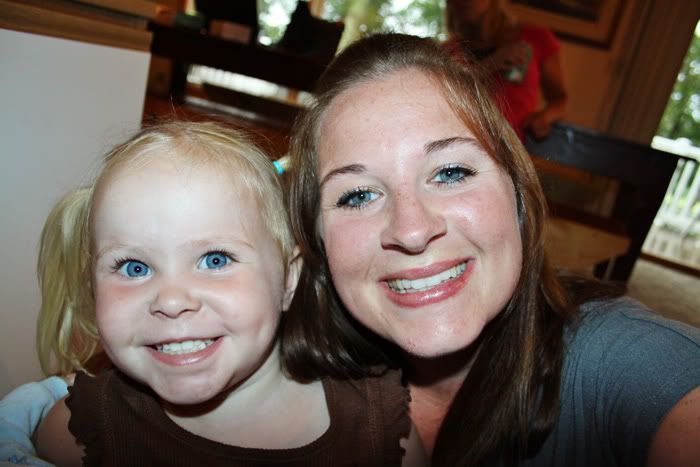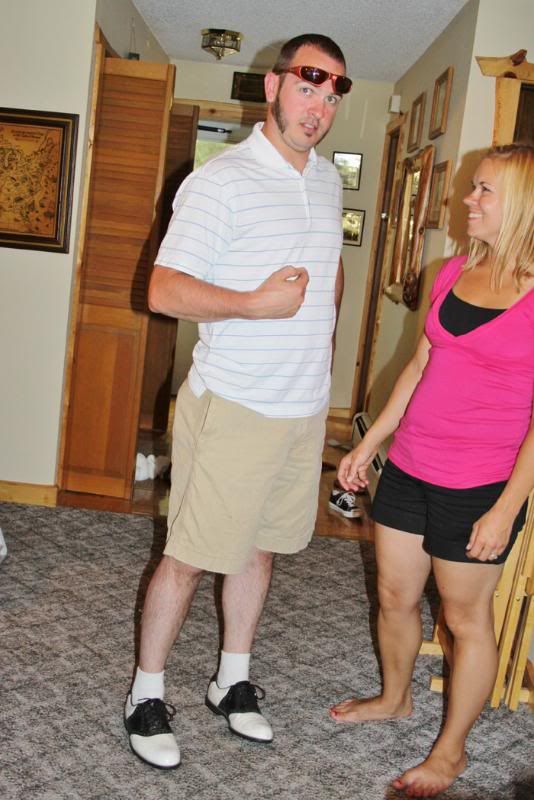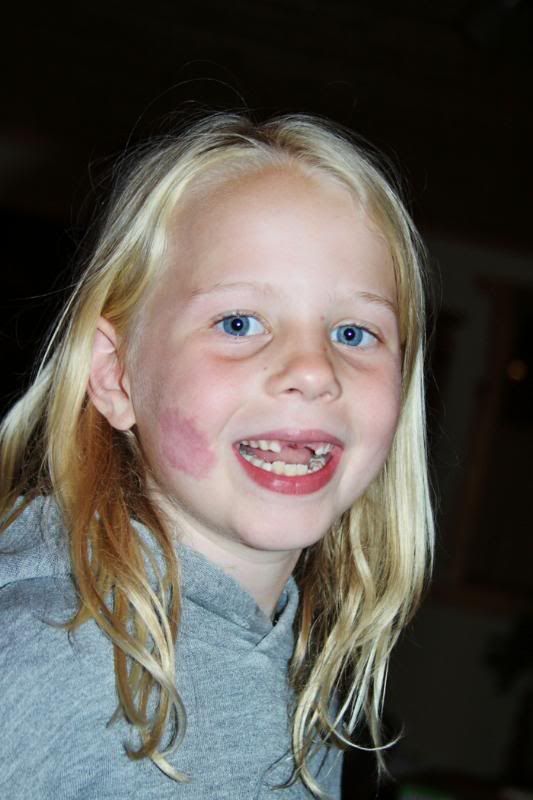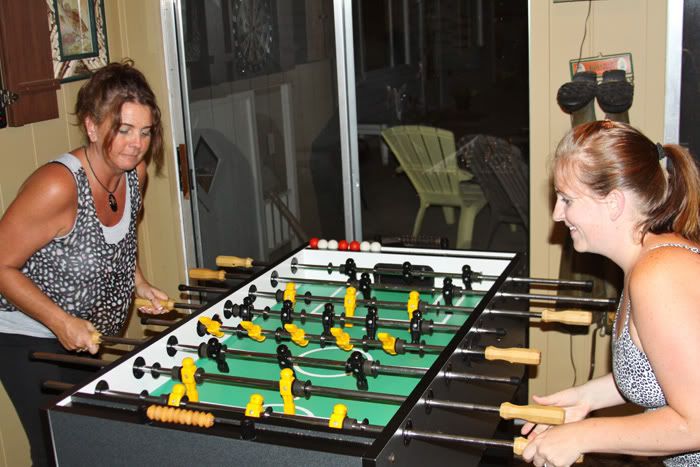 Mom and Nate enjoying their banana baby food we picked up at walmart!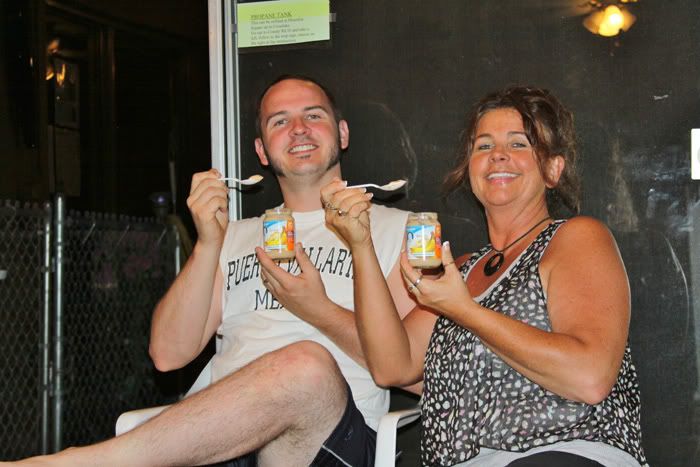 The mouse was spotted again and we chased the mouse out of the house. We went out for ice cream after the mouse fiasco. Then we came home and played game of things, with much inappropriateness (Question: What should you never say in front of your grandmother? Answer: Twat. And every answer thereafter had something equally inappropriate and the word twat was banned for the next game night! Oh, and also we signed mom up for seniorsmeetpeople.com. HAHA Her name was FunHotTammy! LOL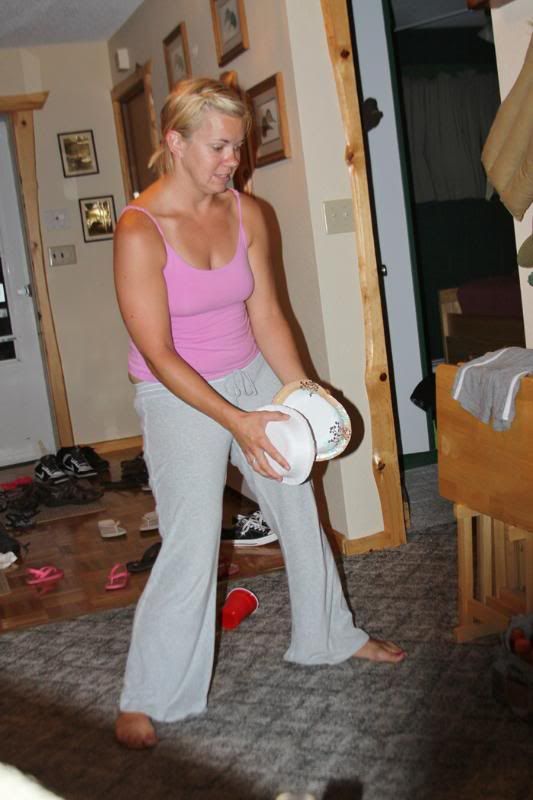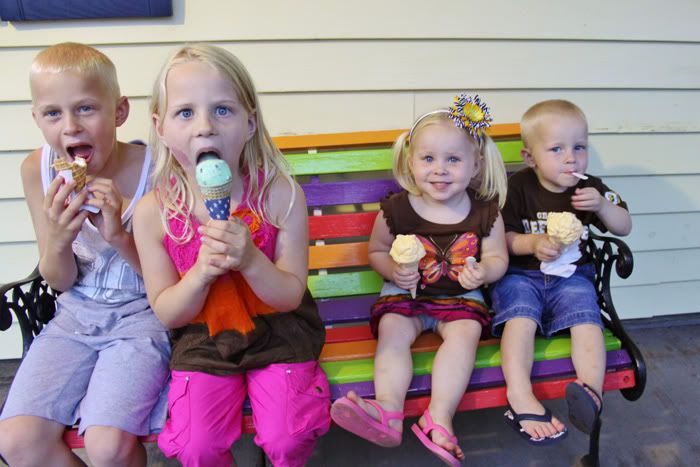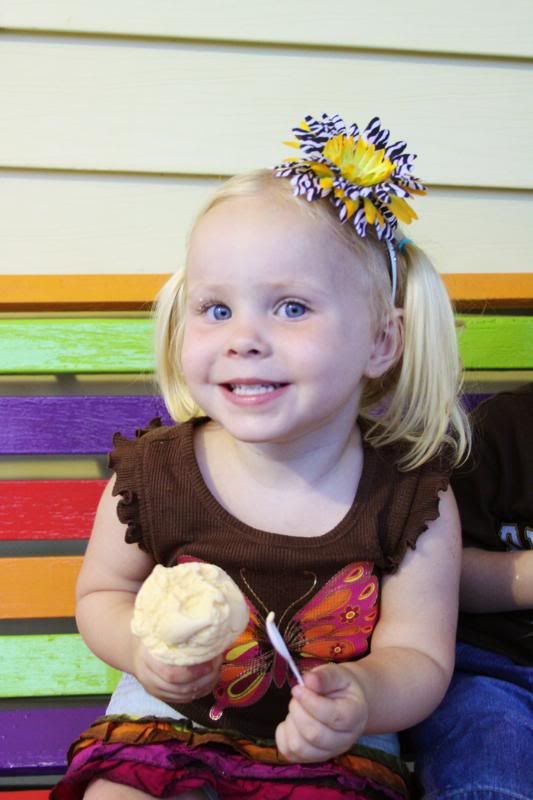 Day four-Tuesday:
Poolside all morning. Rented a pontoon again for the afternoon and did some tubing and swimming at the sandbar.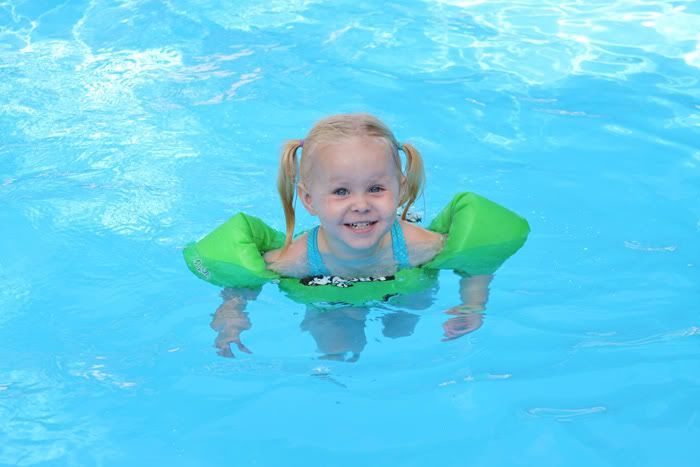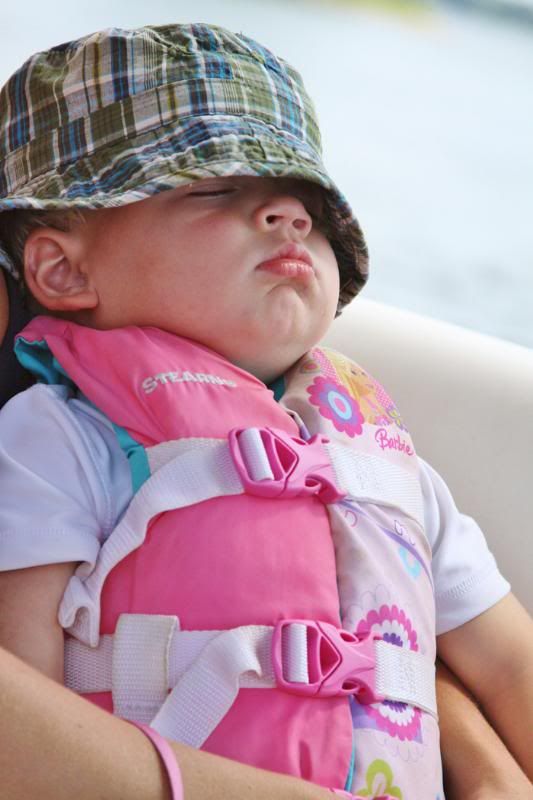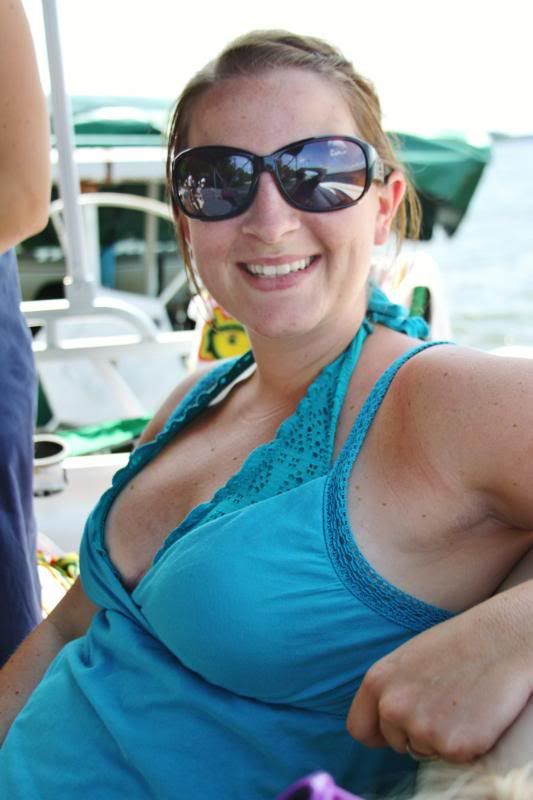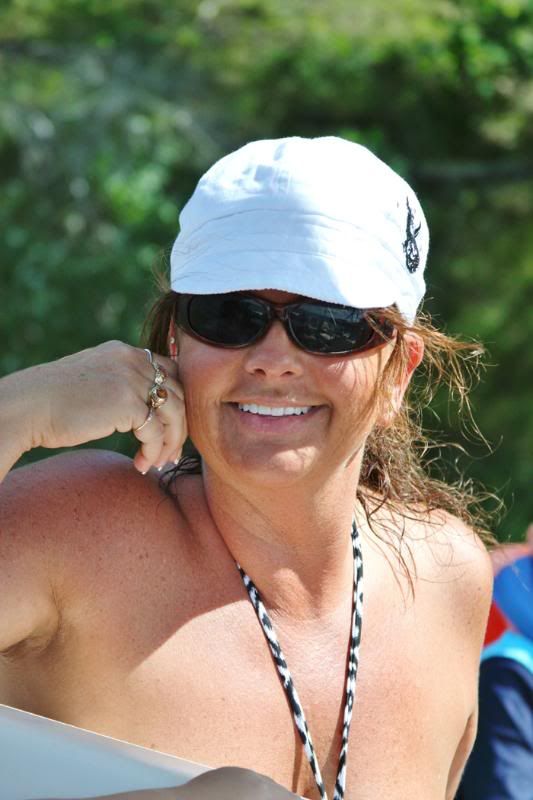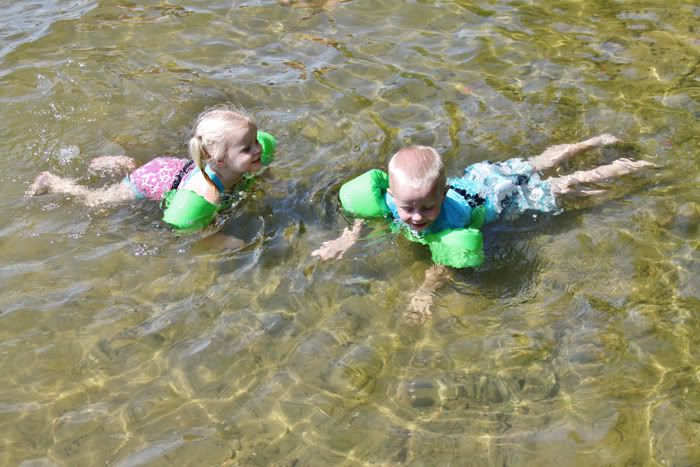 For dinner we went to Moonlight Bay on the lake. The kids love going there and playing all the games!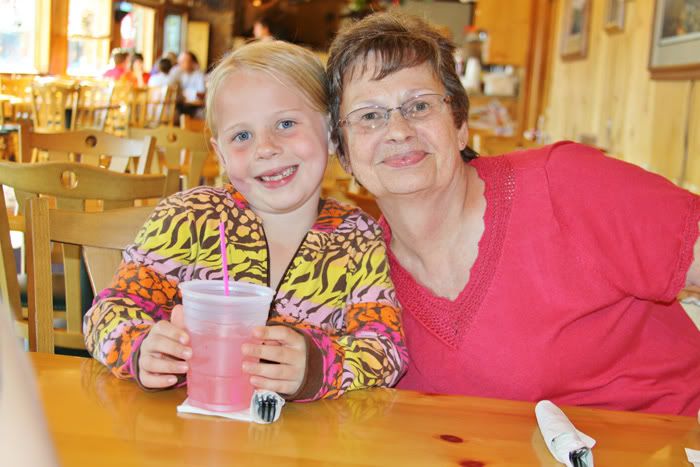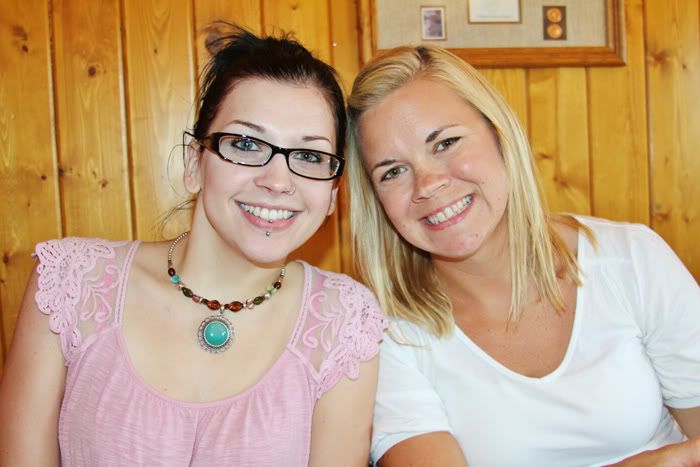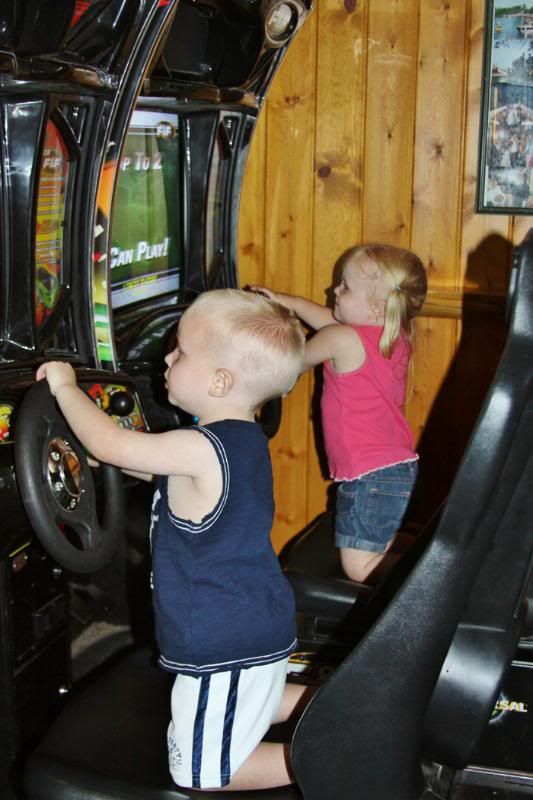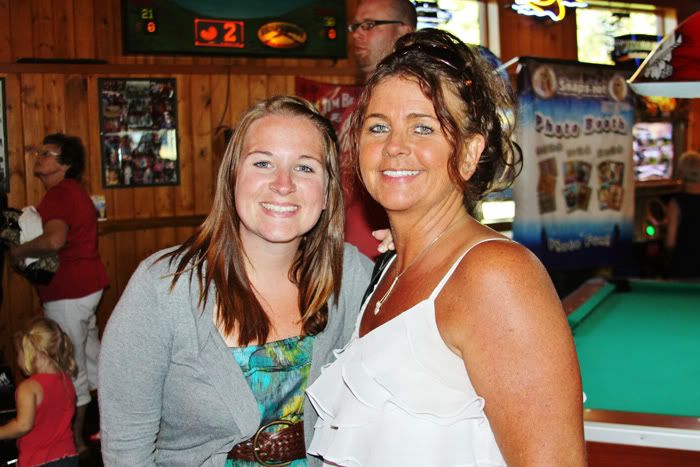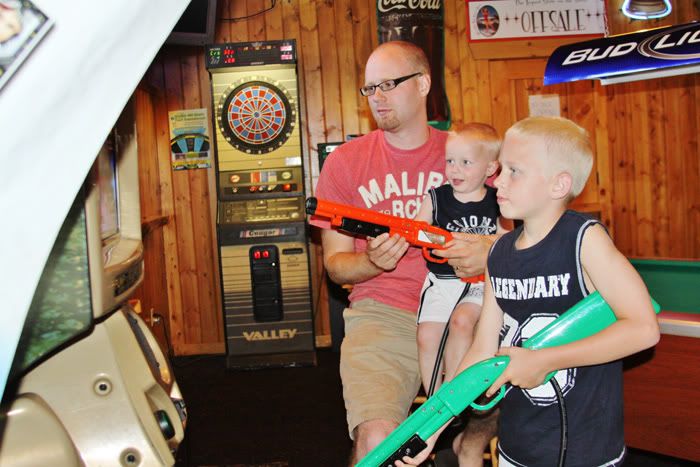 Day five-wed: We spent all day relaxing by the pool. Mr. Mouse was spotted throughout the day. Tiff and Eric came in the afternoon, But that evening Rach had to leave. We had a campfire and made smores again. Played game of things and minute to win it. Spotted mouse again, but of course after all the guys were in bed.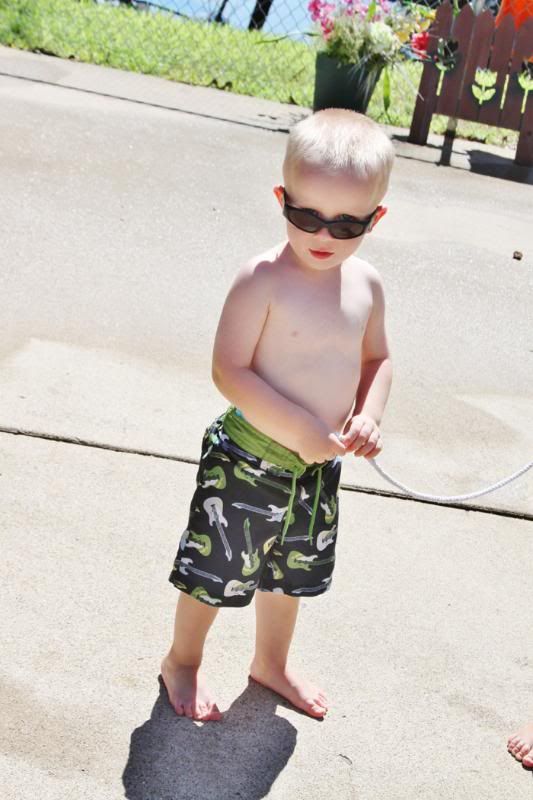 Scoutie was apparently practicing for a pageant or something???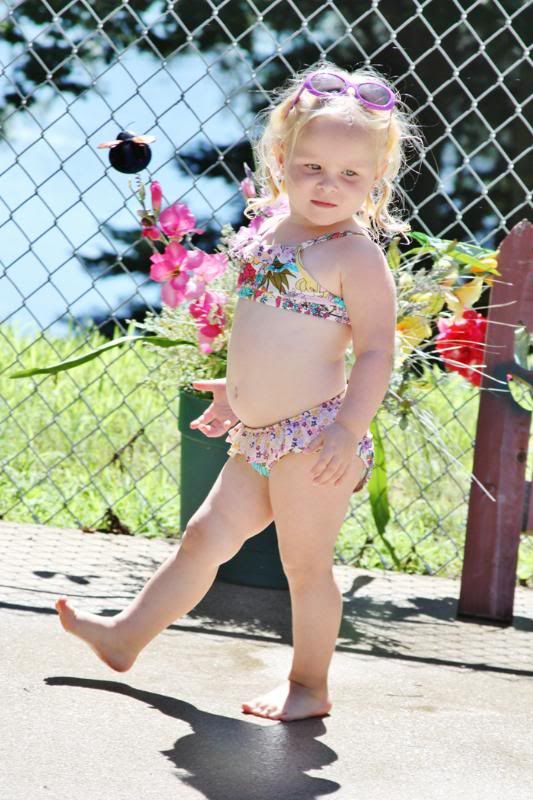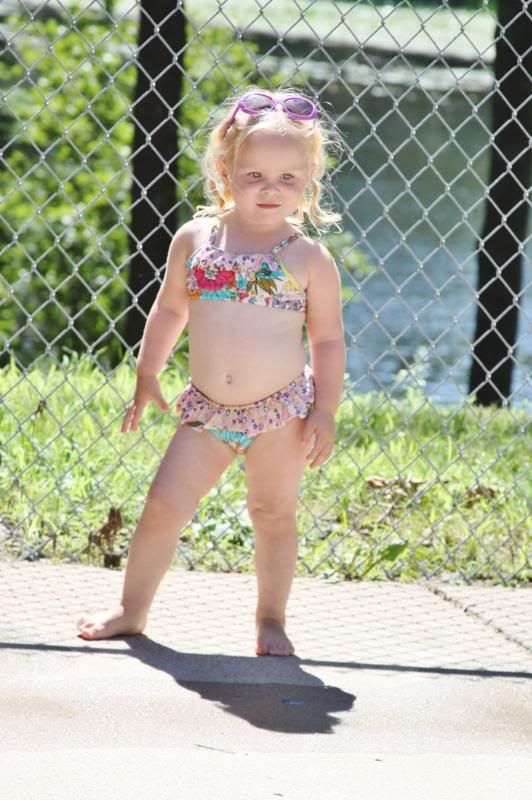 Finn and Scout were going around giving foot massages.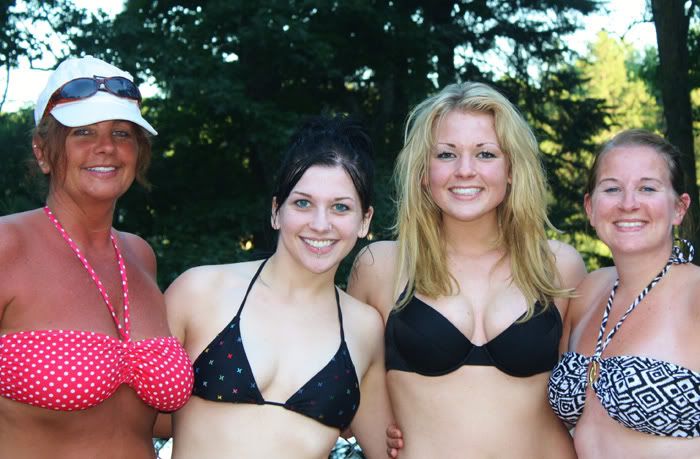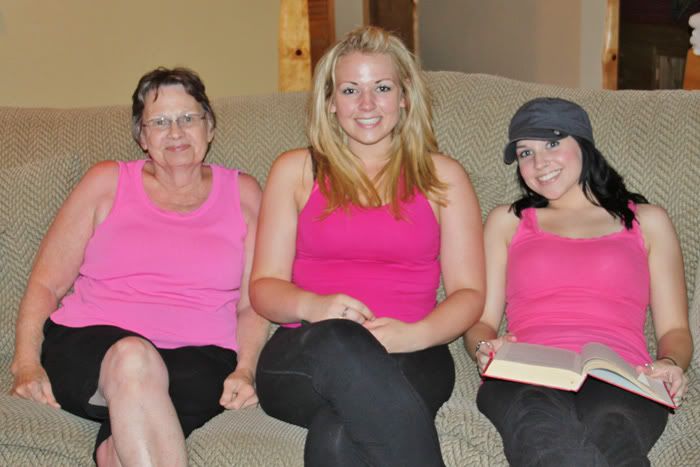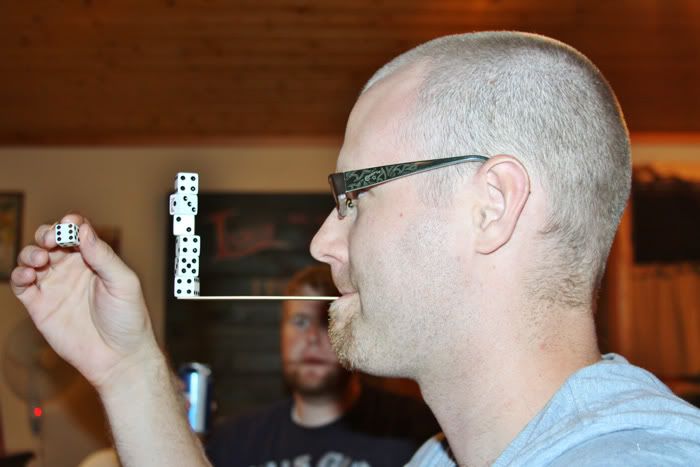 Scout and Kinzie getting made up by Auntie Tiffy!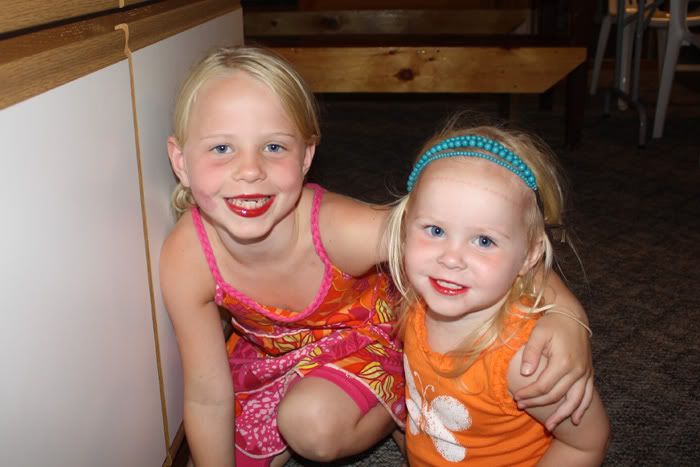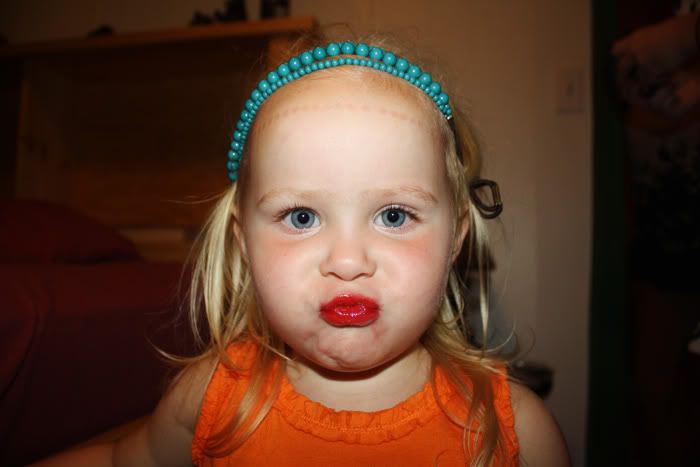 Oh and Finn too...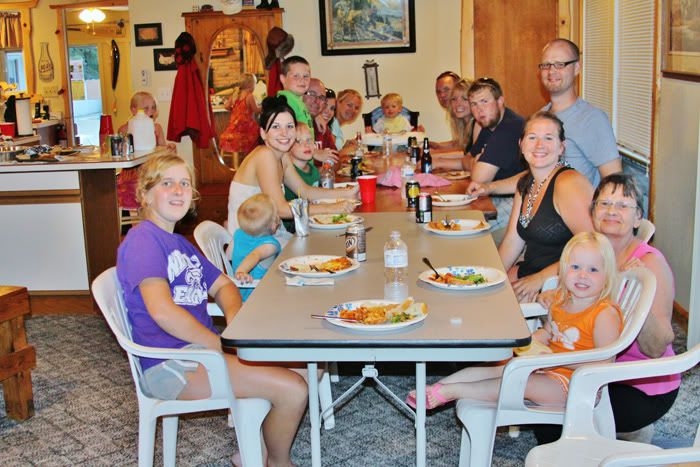 Day six-thurs: We went to Pequot lakes and Nisswa shopping while the boys went go carting. While in Nisswa we went on a carriage ride. That night we went to look at lisa's aunt's cabin in Hackensack and then got ice cream after. It was supposed to be a secret since only a few of us went, but oops, I slipped. We finally caught the mouse on a sticky trap...and had to um...get rid of it. Micheal Meyers made an appearance at the screen door outside, but Mom just smiled at him when she saw him. And then it was drinks and late night pool for the adults :)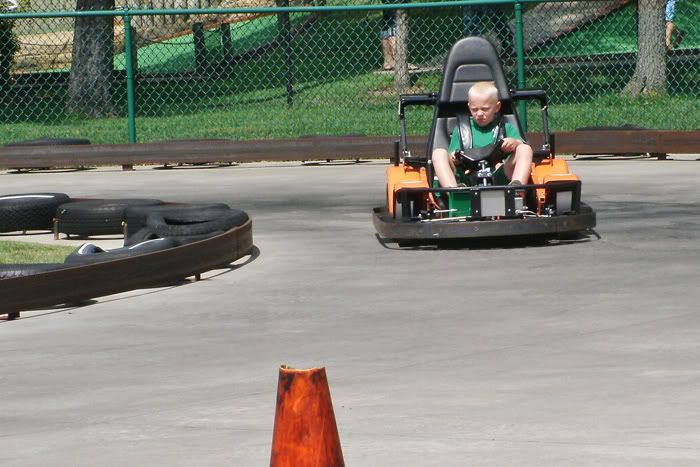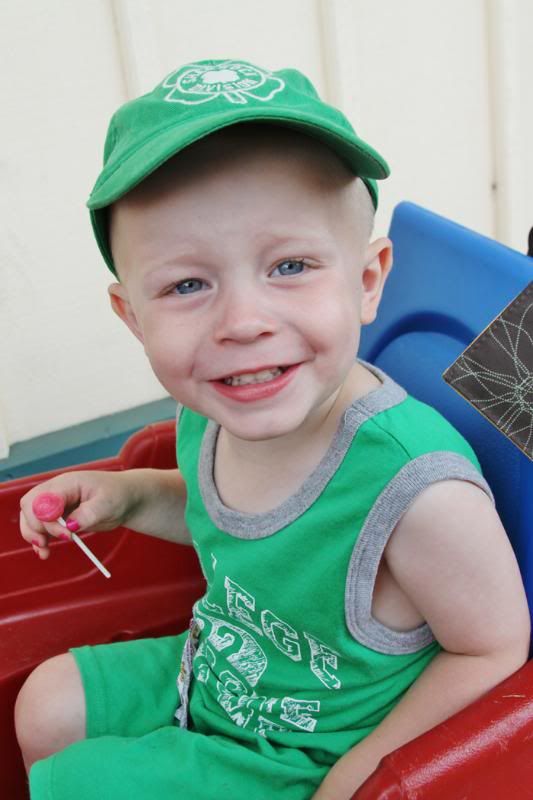 The girls got eye glitter put on at the Fun Sisters store!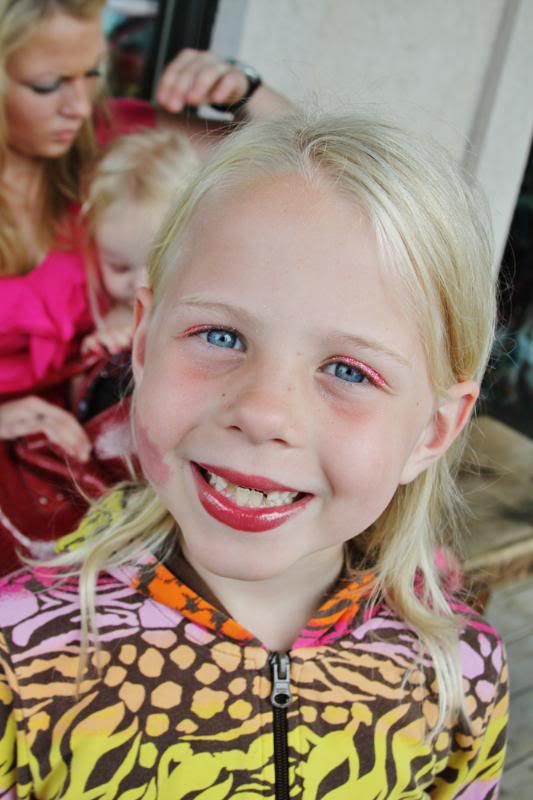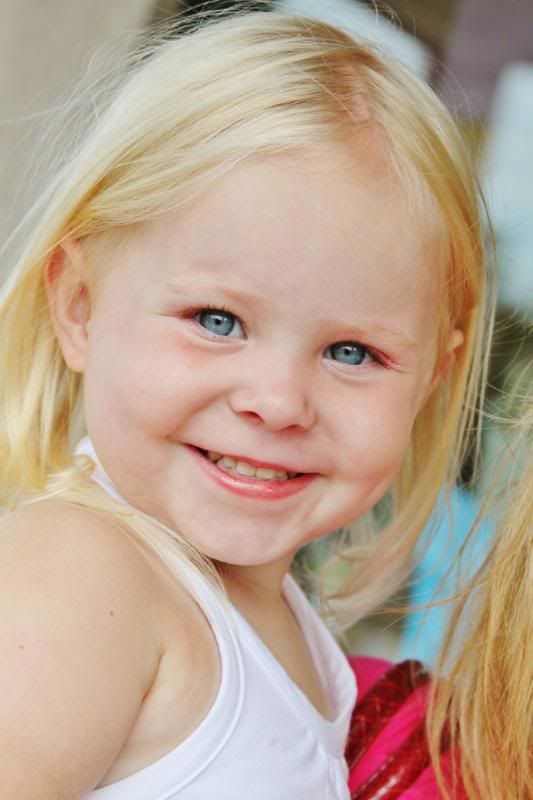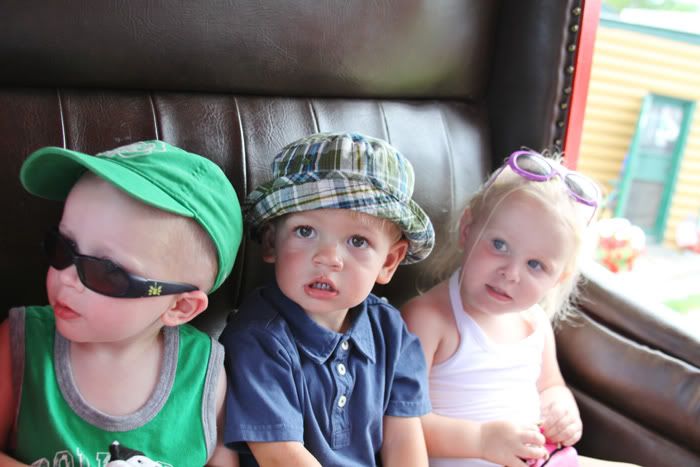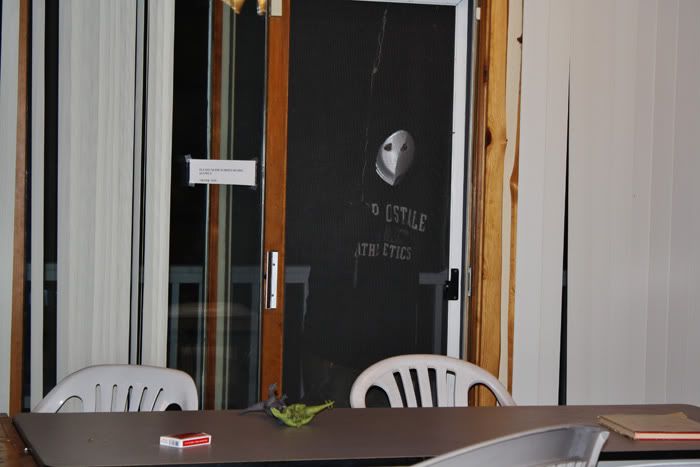 Day seven- Friday: Our last full day at the cabin. Sad. :( We caught a baby mouse in the morning had to also dispose of it...

Poolside...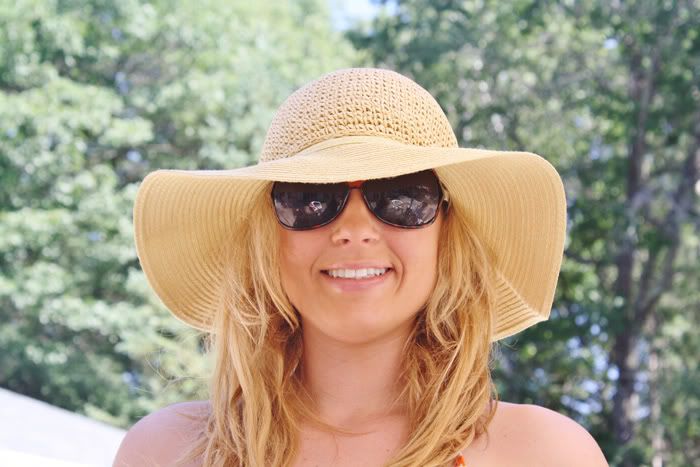 Jet skis and tubing. Eric's 2nd time tubing

EVER

and first time jet skiing. It was pretty great to watch. But I am thinking he did not enjoy it.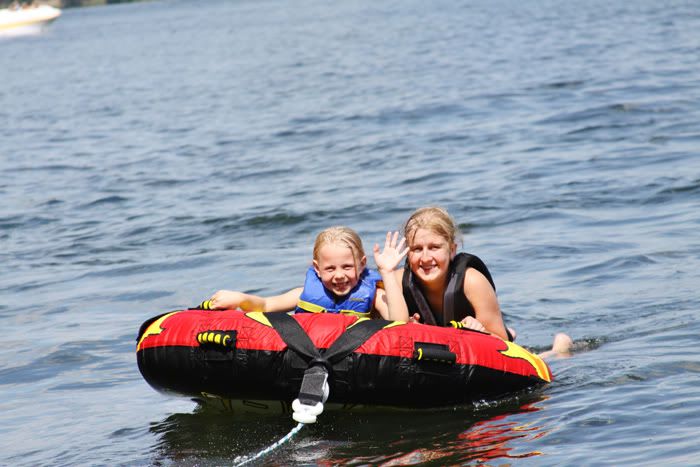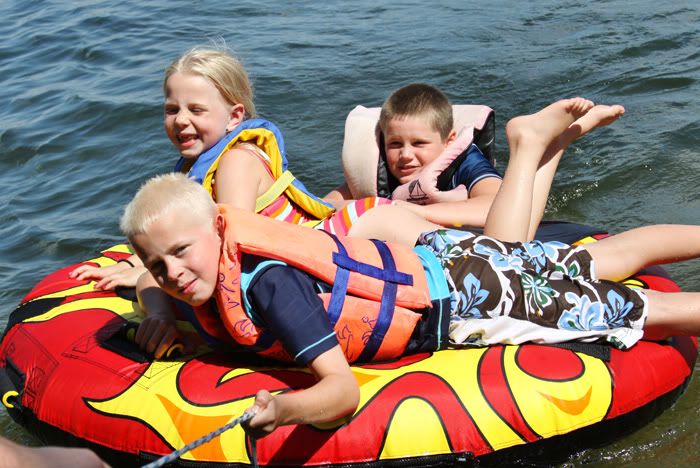 We went to Zorbas on the lake for dinner. Then we went for more ice cream afterwards.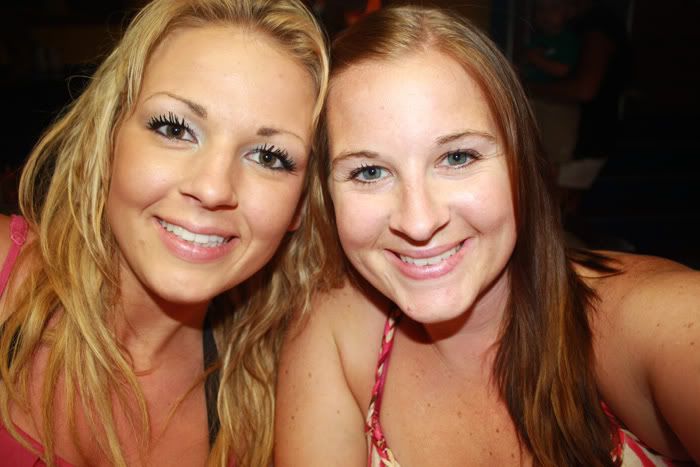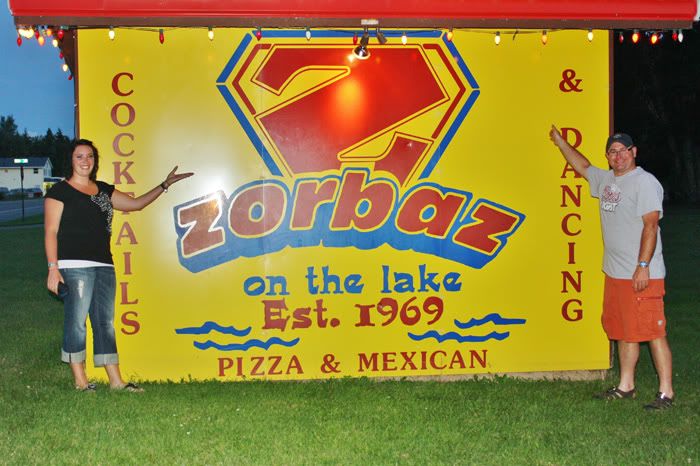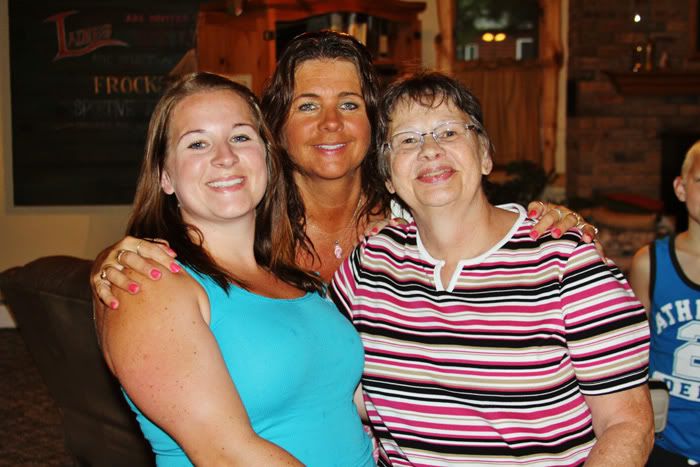 Micheal Meyers made an appearance to stand in Todd and Lisa's window and scratch on the screen. Too bad they didn't see him! They just thought the screen apparently fell out for no reason! So then Nate got Shan and Tiff. Tiff got Shan and Shan got Tiff back. I think we maybe all slept with our eyes half open that night?!





Saturday morning we got up, cleaned and checked out of the cabin, and headed to Glenwood for the Anderson Family reunion.





The Fish pond is always a highlight of the reunion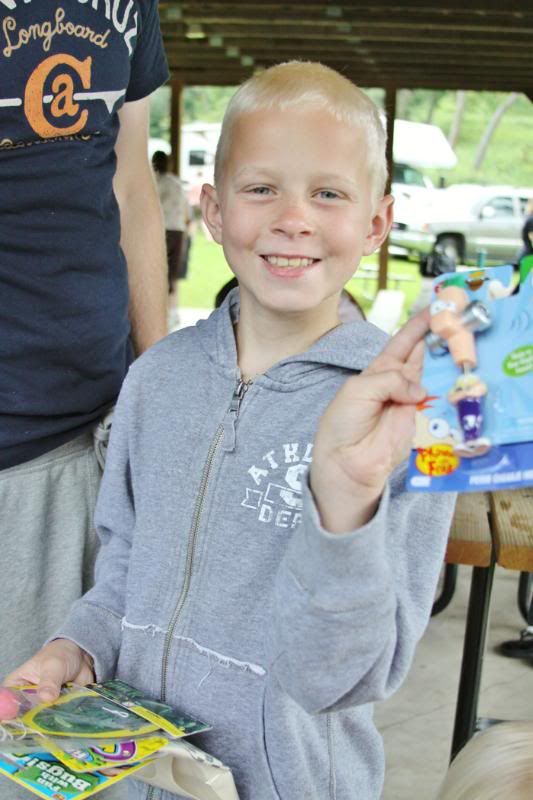 Scoutie showing off her new watch!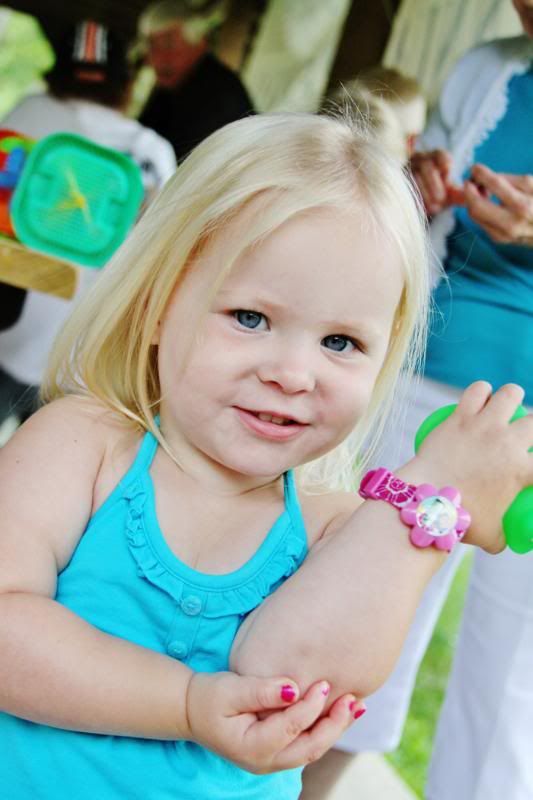 Sout hoarding the chalk...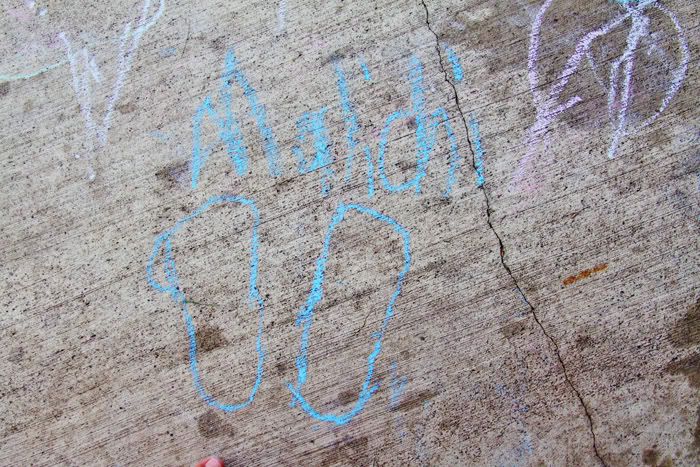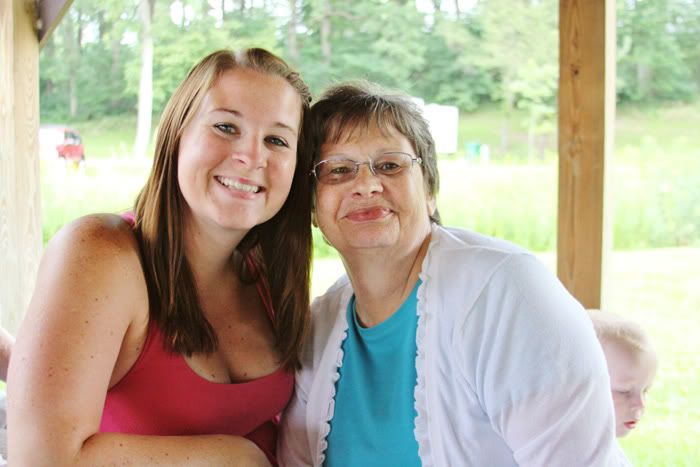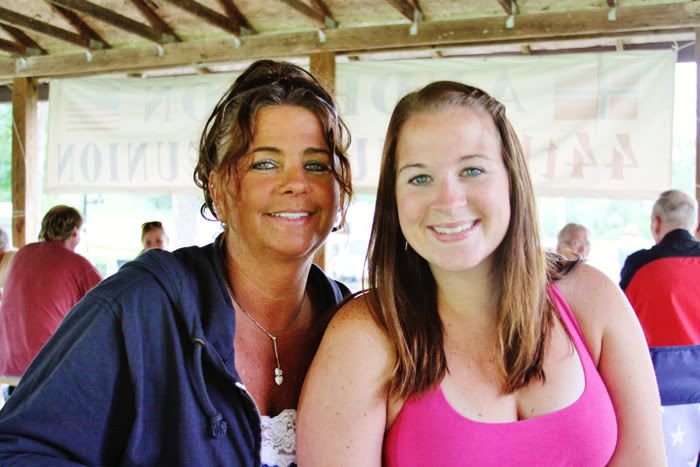 I love my family and I cherish this time we have with them!